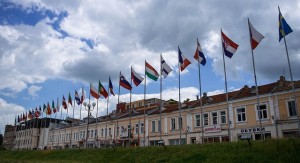 Get NAATI certified Bulgarian document translation services from NAATI accredited Bulgarian translators. Our Bulgarian translators are experienced in translation for personal documents used for visa applications, university applications, business and legal purposes.
NAATI Translation Services
NAATI certified Bulgarian to English or English to Bulgarian documents less than 5 pages usually take 2-3 days for delivery. To begin your translation, simply scan and email us your documents for a quote. We provide easy online payment options so that you can get your certified translations faster. Only NAATI certified translations are accepted by immigration and legal use in Australia. We deliver high quality Bulgarian translation services Australia-wide.
NAATI Certified Document Translation
Bulgarian translator for Certificate of incorporation
Bulgarian translator for Memorandum and Articles of association
Bulgarian translator for Insolvency reports
Bulgarian translator for Corporate appointments
Bulgarian translator for Company reports
Bulgarian translator for Birth Certificate
Bulgarian translator for Marriage Certificate
Bulgarian translator for Technical Instructions
Bulgarian translator for Insurance claims
Bulgarian translator for Divorce
Bulgarian translator for Financial Report
Bulgarian translator for Driver Licence Translation
Request for a quote
To begin, simple scan your documents and email us at enquiry@sydneytranslation.com for a quote and estimated delivery time. Alternatively, you can use this form to submit your documents for translation.
About the Bulgarian Language
Bulgarian is an Indo-European language, a member of the Southern branch of the Slavic language family.
Bulgarian was the first "Slavic" language attested in writing. As Slavic linguistic unity lasted into late antiquity, in the oldest manuscripts this language was initially referred to as языкъ словяньскъ, "the Slavic language". In the Middle Bulgarian period this name was gradually replaced by the name языкъ блъгарьскъ, the "Bulgarian language". In some cases, the name языкъ блъгарьскъ was used not only with regard to the contemporary Middle Bulgarian language of the copyist but also to the period of Old Bulgarian. A most notable example of anachronism is the Service of St. Cyril from Skopje (Скопски миней), a 13th-century Middle Bulgarian manuscript from northern Macedonia according to which St. Cyril preached with "Bulgarian" books among the Moravian Slavs. The first mention of the language as the "Bulgarian language" instead of the "Slavonic language" comes in the work of the Greek clergy of the Bulgarian Archbishopric of Ohrid in the 11th century, for example in the Greek hagiography of Saint Clement of Ohrid by Theophylact of Ohrid (late 11th century).
Key Services
Bulgarian driver license translation, Bulgarian to English translation services, Bulgarian NAATI translation services, Bulgarian passport translation service, Bulgarian marriage certificate translation service, Bulgarian certificate translation services, Bulgarian birth certificate translation service, Bulgarian to English translation, Professional Bulgarian translator, Bulgarian Level 3 Bulgarian Translators, Bulgarian website translation, Bulgarian magazine translation, Bulgarian news translation, Bulgarian business translation services, Bulgarian to English translation service, English to Bulgarian translation service, Bulgarian translator for advertisements, Bulgarian translator for legal documents, Bulgarian document translation services.